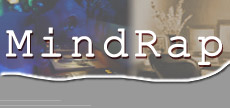 H2ed Conference 2005 MindRap Workshop
Thank you MindRap team and H2ed participants!
This was one of the most positive events we've participated in this year. There is such a need for like minded positive people to get together in the same space to work out solutions to the institutionalized racism that exists in this country. Please believe that those educators using Hip Hop to reach our youth are revolutionaries that will make a noticible difference in the near future. Look out!
The MindRap team had mad fun doing this workshop. The talented H2edgroup brainstormed about zero facts....we posted the list for all to see. The MindRap team also researched and created a zero fact sheet that was distributed. Everyone did a brain dump on paper about zero...then Daniel read his chorus. The chours was brilliant because it was writen in call and response. "They call us Zero" ans. "But they don't teach us about our heros" They call us Zero" ans."But they don't teach us about our heros..."They call us Zero:" "But they do n't teach us about out heros" But we're not Zero" ans. " because our people invented Zero"........then Jamie played his awesome beat and the writing began....everyone wrote verses to the chorus. Some people shared....enjoy!